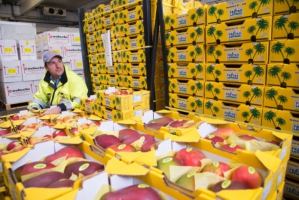 Nigeria's Food and Agricultural Import Regulations and Standards
Lex Artifex LLP, law firm in Nigeria, has introduced the Food & Drug (F&D) Helpdesk to assist individuals and companies involved in the manufacturing, distribution, exportation and importation of regulated food and drugs products in meeting the requirements set by Nigeria's National Agency for Food and Drug Administration and Control ("NAFDAC"). Below is the Cosmetics Products (Prohibition of Bleaching Agents) Regulation of Nigeria 2018.
NIGERIA'S FOOD AND AGRICULTURAL IMPORT REGULATIONS AND STANDARDS
Section I.
Food Laws:
The responsibilities for regulating and monitoring food safety standards and practices in Nigeria devolve on the following government organizations:
Ministries: Federal Ministry of Health, Federal Ministry of Agriculture & Water Resources and Federal Ministry of Commerce;

Departments: Federal Department of Fisheries and Federal Department of Livestock;

Agencies: National Agency for Food and Drug Administration and Control (NAFDAC), Standards Organization of Nigeria (SON), and Nigeria Agricultural Plant Quarantine Services (NAQS) and Consumer Protection Council.
The following are major Nigeria's food laws:
Food and Drugs Act

Food, Drugs and Related Products (Registration, Etc.) Act

Animal Disease Control Act

Marketing of Breast Milk Substitutes Act

Counterfeit and Fake Drugs and Unwholesome Processed Foods (Miscellaneous Provisions) Act

National Agency for Food and Drug Administration and Control (NAFDAC) Act

Consumer Protection Council Act

Inland Fisheries Act
NAFDAC is Nigeria's food safety authority and is responsible for the regulation and control of food product manufacturing, importation, exportation, advertisement, sale and distribution in Nigeria. It defines food as any "article manufactured, processed, packaged, sold or advertised for use as food or drink for human consumption, chewing gum and any other ingredient which may be mixed with food for any purpose whatsoever."
Under the provisions of the law and the accompanying Guidelines, no food item may be imported, manufactured, advertised, sold or distributed in Nigeria unless it has been registered by NAFDAC. Its scope is to regulate, protect and promote public health by ensuring the wholesomeness, quality, safety, and efficacy (as applicable) of food, packaged water, drugs, cosmetics, medical devices, chemicals and detergents (referred to as regulated products) consumed in Nigeria.
NAFDAC regulation activities cover:
Licensing & registration of food premises

Importation & exportation of food

Labeling of food

Advertisement of food

Sampling procedures

Closure of unhygienic food premises

Health control of food handlers

Irradiation of food

Marketing of breastmilk substitutes

Ante-mortem and/or post-mortem examination of food animals

Quarantine measures
NAFDAC operates at the Federal and State levels along with the state government agencies. At the local government level, there are primary healthcare agencies responsible for street food vending, catering establishments and traditional markets.
Section II. Labeling Requirements
A. General Requirements
NAFDAC regulations require food labeling to be informative and accurate and not fraudulent or misleading.
The following is the outline of NAFDAC"s minimum labeling requirements:
A product's brand name or common name must appear in bold letters.

Name and full "location" address of the manufacturer showing country of origin must be provided on the product label.

The production "batch" or "lot" number, date of manufacture and best before/expiry date.

Net content, specifying essential ingredients in metric weight for solids and metric volume for liquids.

Ingredients must be listed by their common names in order of their prominence by weight.

Food additives and colors must be declared on the label.

Spices, flavors and colors may be listed as such, without naming the specific material, but any artificial color or flavor should be identified as such.

NAFDAC registration number must be included on the product label.

Labeling should be in English. If it is in another language, an English translation must be shown on the label or package insert (where applicable).

Stick-on labels meeting NAFDAC requirements are permitted provided they don't remove easily.

Foreign labels must be adhered prior to the product arrival at the Nigerian port of entry.

A foreign label must be applied prior to export

For production and expiry dates, Nigerians write the date before the month. Exporters are advised to specify the month in words (July 1, 2005 or indicate mm/dd/yr) to avoid conflicts that may arise in mistaking the day for the month.

NAFDAC regulation stipulates that all food products should carry best-before dates and/or shelf life on their packaging. The regulation states that the expiry date should be "at least half the shelf life as at the time of inspection." The last sentence is interpreted to mean that at the time of inspection (by NAFDAC after clearing Customs), that the period from the inspection date until the expiration date should be equal to or greater than half of the total shelf life of the product (date of production until expiry).

NAFDAC does not grant exceptions to labeling requirements.
B. Requirements Specific to Nutritional Labeling:
Any nutritional claim on the product's label must be justified. Nutritional labeling is mandatory for any prepackaged food item for which the manufacturer makes a nutrition or dietary claim.

Foods for special dietary uses with claims of disease prevention, treatment, mitigation, cure or diagnosis must comply with NAFDAC's guidelines for registration of drugs and be registered as medicinal products or "nutriceuticals".

Labels must contain directions for safe usage, cautions such as interactions when taken with other drugs.

Additional nutritional labeling information is voluntary.
Section III. Packaging and Container Regulations
At present, NAFDAC regulations are not specific on packaging, but the agency is in the process of developing regulations on packaging.
No specific waste disposal laws or product recycling regulations impact imported food products and NAFDAC does not impose any specific restrictions on packaging materials.
However, plastics must be of food grade and should not leach into the product.
Nigerian importers, however, often express a marked packaging preference for certain high-value food products (HVP), namely:
Relatively small sized products prepared and packaged for one-time use.

Products that can be shipped in bulk and re-packaged locally.

Perishable food products that undergo processing/packaging treatment to achieve an extended shelf life without refrigeration.
Section IV. Food Additives Regulations:
Nigerian food additive regulations are specified in the relevant legislation.
NAFDAC has developed a specific food additive regulation on non-nutritive sweeteners and on fortification.
NAFDAC requires that wheat and maize flour, vegetable oil and sugar be fortified with Vitamin A, while salt must be iodized.

NAFDAC applies the food additive standards of the Codex Alimentarius Commission, EU and FDA in its assessment of food safety.

No person may manufacture, import, advertise, sell or present any food item or beverage containing a non- nutritive sweetener for human consumption unless the product is "specified for special dietary usage."

Non-nutritive sweeteners, including saccharin and cyclamates, may be used in low calorie, dietary foods/beverages but are not permitted in any food or beverage to be consumed by infants or children.

Potassium bromate as a bread improver is not permitted. Other several bread improvers are now available.
There are penalties for the violation of provisions of the NAFDAC regulations.
Section V. Pesticides and Other Contaminants
The pesticide residue limits and mycotoxin standards of the Codex Alimentarius Commission, EU and USFDA are applied by NAFDAC in its assessment of food safety.

All food products must have a certificate of analysis, which demonstrates to NAFDAC's satisfaction that the item is free of radioactive contents in addition to other quality parameters. There is a maximum residue limit for approval of pesticides.

NAFDAC reserves the right to subject any domestic or imported product to its own analysis to determine wholesomeness of food product. NAFDAC officials routinely subject imported foods to inspection and analysis at the port of entry, retail level and also perform laboratory analysis.

Contaminated products are subject to seizure and destruction by NAFDAC and possible prosecution.
Section VI. Other Regulations and Requirements
A. General
The manufacturer shall make an application for the registration of processed food. In case of a manufacturer outside Nigeria, such shall be represented in Nigeria by a duly registered Nigerian company.

Importers of food products through their representatives in Nigeria must first submit an application to NAFDAC, stating the name of the manufacturer, name (brand name where applicable) of the product.

A separate application form is required for each regulated product.
The following are documentation for registration and renewal of the permit for imported food products:
Foreign manufacturers must be represented in Nigeria by a duly registered company or individual.

NAFDAC considers the local representative to be fully responsible for all matters on the product, such as registration, distribution re-calls, legal actions etc.

The Nigerian importer/distributor must file evidence of a Power of Attorney from the manufacturer, which authorizes him to be the representative in Nigeria.

A certificate of manufacture and free sale issued by a competent health authority, authenticated by the Nigerian Embassy in the country of origin. Product license or evidence of product registration in the country of origin is an added advantage.

All importers must submit the certificate of registration of brand name/ trademark with the trademark

Registry in the Ministry of Commerce in Nigeria. This is done in the name of the owner of the trademark to protect the owner.

A NAFDAC application form duly completed by the local agent (importer) for the registration of each regulated product.

Fifteen product samples (twenty in the case of dairy products) depending on pack size must be provided to NAFDAC for physical/laboratory analysis and vetting which takes about four to eight weeks.

Permit must be obtained to import limited quantities for the purpose of registration.

A comprehensive certificate of product analysis issued by the manufacturer.

A letter of invitation for the inspection of factory to be submitted by the applicant in Nigeria and shall state the full location address of the manufacturer, name of contact person, E-mail address, current phone and fax numbers.
NAFDAC registration process involves documentation, inspection of manufacturing facilities, review of the GMP inspection report, laboratory analysis for assessment of food safety and quality, vetting of labels to confirm compliance with NAFDAC's labeling regulations. The process also involves advertisement (optional) control to ensure that it is not deceitful, fraudulent or misleading. These activities culminate in the issuance of a NAFDAC Registration Number, which is an attestation of product quality and safety.
The process of registration now involves GMP audit visits by inspectors of the agency to factory locations in the respective countries of origin. The registration of any food product with NAFDAC is a detailed process and could take between 1-3 months from the date samples are submitted for laboratory tests to be completed. Manufacturers/exporters wishing to sell their food products in Nigeria also should be aware of relevant requirements and regulations of the Nigerian Customs Service. A successful application will be issued a Certificate of Registration with a validity period of five years.
Guidelines for Agents of Foreign Manufacturers
1. Agents of foreign manufacturers are to take the necessary steps to ensure that regulated products intended for the Nigerian market are registered before consignments of such products are imported into the country.
2. NAFDAC will normally authorize the importation of small quantities of unregistered products for the purpose of submission as samples for registration. A written authorization specifying the quantity of the unregistered products to be imported can be obtained from NAFDAC.
3. On arrival of the imported samples and presentation of the authorization to the NAFDAC inspectors at the ports, the consignment will be treated the same way as other normal imported consignments. Before the consignment is therefore cleared from the ports, the importer is required to present the following:
Authorization to import samples of the unregistered product.

Bank draft for the prescribed port inspection fees payable to NAFDAC.

Properly completed Customs Bill of Entry

Certificate of Analysis of the product issued by the manufacturer.

Certificate of Manufacture and Free Sale issued by a Government Authority empowered by law in the country of origin to exercise regulatory control over the product authenticated by the Nigerian Embassy in the country of manufacture.

Power of Attorney, notarized, issued by the manufacturer to the Nigerian local agent.
4. In the event of any violation, the consignment of the unregistered product would be cleared from the ports to a bonded warehouse at the expense of the importer. Thereafter, the importer is prosecuted and the products forfeited to the Government together with any assets or property obtained or derived directly or indirectly from the commission of the offence.
B. Expiry Dates
NAFDAC Pre-packaged Food Labeling Regulations stipulates that all food products should carry best-before dates and/or shelf life on their packaging. The policy states that the expiry date should be "at least half the shelf life as at time of inspection." The last sentence is interpreted to mean that at the time of inspection (by NAFDAC after clearing Customs), that the period from the inspection date until the expiration date should be equal to or greater than half of the total shelf life of the product (date of production until expiry). Exporters are advised to specify the month in words (July 1, 2005 or indicate mm/dd/yr) to avoid conflicts that may arise in mistaking the day for the month.
C. Registration Fees
The fee for registering a product is about 4500 United States dollars.
Major supermarket operators or importers can import mixed container loads of High Value Products (HVP) under NAFDAC"s global listing for supermarket (GLS) items.
Items allowed under the GLS include those regulated by NAFDAC sold in supermarkets and other specialties required by hotels, fast food chains and international organizations (excluding registered items). Firms participating in the program must have supermarkets that are certified by NAFDAC and are routinely inspected by the agency. The annual tariff for group product registration has been revised as follows:
| | |
| --- | --- |
| NUMBER OF ITEMS | GLOBAL ANNUAL REGISTRATION TARIFF (USD) |
| Less than 500 | 2500 USD |
| 501 – 2500 | 7500 USD |
| 2501 5000 | 20000 USD |
| Greater than 5000 | 40000 USD |
All fees for processing and registration fees are inclusive of value added tax for each transaction.
Products imported under the GLS must meet the labeling and other requirements listed in sections II and VI. For products imported under GLS, a representative sample is subject to laboratory tests.
D. Prepackaged Food Products
The following guidelines govern the sale of prepackaged food products in Nigeria:

No person may sell a prepackaged food unless a label has been affixed thereto.

A prepackaged food label must not be presented in a manner, which is false, deceptive or likely to create an erroneous impression regarding its character, quality, quantity and origin.

A complete list of ingredients used in preparing the food item will be declared on the label in a descending order of their proportion.

A date of minimum durability must be identified on the label along with any special storage conditions.

Prepackaged food items that are treated with ionizing radiation must be so declared and the nature of the ionizing radiation will be stated on the label.
NAFDAC officials routinely visit depots, markets and retail outlets to confirm that all imported food products are in compliance with local regulations.
NAFDAC may prohibit the importation, distribution, sale or use of any prepackaged food item, temporarily or permanently as well as impose administrative fines against any product failing to comply with the above regulations.
E. Advertisement Requirements
NAFDAC must approve all advertisement/promotional materials prior to utilization.
Advertised food products must demonstrate that the products are legally registered with NAFDAC.

An application for advertisement must be submitted to NAFDAC for its approval.
Section VII. Intellectual Property
Nigeria is a member of the World Intellectual Property Organization (WIPO) and a signatory to the Patent Cooperation Treaty and the Universal Copyright Convention (UCC) and other major International Agreements on Intellectual Property Rights (IPR).
The Patents, Trademarks, and Industrial Design Registry of the Federal Ministry of Trade and Investment is saddled with responsibility for issuing patents, trademarks, and industrial designs. Once conferred, a patent conveys the exclusive right to make, import, sell, use a product, or to apply a patented process. Registering a trademark grants the holder the exclusive right to use the registered mark for a specific product or class of products.
Section IX. Import Procedures
A. Inspection
Effective January 1, 2006, the government of Nigeria commenced the implementation of Destination Inspection (DI) to replace Pre-shipment Inspection (PSI). Under the new scheme, goods destined for Nigeria's ports are inspected at the point of entry rather than at the point of shipment, which was hitherto the practice. The scheme will be carried out by the Nigeria Customs Service (NCS), while three firms that will act as Destination Inspection Service Providers, will provide scanning services at ports of entry.
B. Documentation
Any person intending to import physical goods into Nigeria shall in the first instance process Form "M" through any authorized dealer bank irrespective of the value and whether or not payment is involved.

Supporting documents shall be clearly marked "VALID FOR Foreign Exchange (FOREX) / NOT VALID FOR FOREX" as appropriate i.e. depending on whether or not foreign exchange remittance would be involved.

The validity period of Form "M" for plants and machineries shall be for a period of one year.

All applications for goods subject to Destination Inspection shall carry the "BA" code; while those on exemption shall indicate "CB" in the prefix of the numbering system of the Form "M".

An exemption shall be as approved by the Honorable Minister of Finance prior to completion of Form "M".
The Form "M" and relevant pro-forma invoice shall carry a proper description of the goods to be imported to facilitate price verification viz:
1. Generic product name, i.e. product type, category
2. Mark or brand name of the product where applicable.
3. Model name and or model or reference number where applicable.
4. Description of the quality, grade, specification, capacity, size performance etc.
5. Quantity and packaging and or packing.
Documents in respect of each import transaction shall carry the name of the product, country of origin, specifications, date of manufacture, batch or lot number, Standards to which the goods have been produced (e.g. Nigeria Industrial Standards-NIS, British Standards PD, ISO, IES, DIN, (etc).

Where import items such as food, drinks, cosmetics, drugs, medical devices, chemicals etc., are regulated for health or environmental reasons, they shall carry EXPIRY dates or the shelf life and specify the active ingredients, where applicable.
C. Duty
The importer's bank issues a certified check to the Federal Government's Import Duty account for payment of the import tariff. This payment must be completed before the original IDR and other necessary shipping documents are released by the Nigerian Customs Service (NCS) to the importer who may now initiate the process of clearing his goods. This could be accomplished during transport time.
In January 2006, Nigeria began a partial implementation of the ECOWAS Common External Tariff (CET). The Nigerian government has reduced its tariff bands from twenty to five. The five tariff bands are a zero duty on capital goods, machinery, and medicines such as anti-retroviral drugs and other medicines not produced in the country; 5% duty on imported raw materials; 10% duty on intermediate goods; 20% duty on finished goods; and 50% duty on goods in industries that the GON wants to protect.

All HVP imports are assessed a 5 percent Value Added Tax, a port surcharge equivalent to 7 percent of the duty amount and a Customs inspection service charge equal to 1 percent of the duty amount. The GON frequently reviews its list of items prohibited for imports. Exporters to Nigeria should ascertain the import status of their products before shipment.
Nigeria's Food and Agricultural Import Regulations and Standards
Credit: Office of Agricultural Affairs of the USDA
IMPORTANT NOTICE
While every possible care was taken in producing this publication, information provided may not be completely accurate either because policies have changed since its preparation, or because clear information about these policies was not available. It is highly recommended that manufacturers, exporters, and importers verify the full set of import requirements with specialist trade attorneys in Nigeria, who are the best fit on such matters with Nigerian authorities.
ABOUT LEX ARTIFEX LLP
Lex Artifex LLP is the window for manufacturers, exporters, and distributors of regulated food and drug products seeking licensing in Nigeria and seeking access to the Nigerian market. We are the one-stop shop for legal compliance and due diligence services in Nigeria. We provide clients with legal guidance through every step of the trade process and beyond.
To learn more about the Lex Artifex LLP's Food & Drug (F&D) Helpdesk and how we can offer representation to you in Nigeria, please email: lexartifexllp@lexartifexllp.com; call +234.803.979.5959.