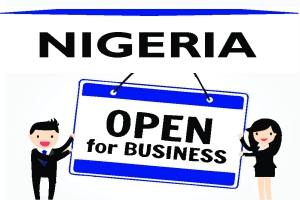 在尼日利亞做生意
DOING BUSINESS IN NIGERIA

:

HOW FOREIGN COMPANIES AND OFFSHORE INVESTORS CAN ESTABLISH IN NIGERIA
The Nigerian government welcomes foreign direct investment and foreign portfolio investment

. Lex Artifex LLP, a 尼日利亞律師樓,

has launched the Doing Business

(

DB

)

Helpdesk to assist investors looking to set up in Nigeria

.

This publication gives a snapshot of the legal and regulatory considerations for doing business in Nigeria

.
Operations of Foreign Companies in Nigeria
Foreign investors or offshore companies can hold

100% 尼日利亞一家公司的股權. 然而,

a foreign company wishing to set up business operations or doing business in Nigeria should take all steps necessary to obtain incorporation of the Nigerian subsidiary as a separate entity in Nigeria for that purpose

.

Until so incorporated

,

the foreign company may not carry on business in Nigeria or exercise any of the powers of a registered company

. 通過授權書,

Lex Artifex LLP can assist a foreign company in the formation and incorporation of a Nigerian subsidiary

.
取得經營許可證及外籍配額
希望在尼日利亞定居嘅海外投資者和外國公司必須由尼日利亞移民局獲得商業許可證或海外配額. 外籍人士唔需要工作許可, 但佢哋仍然需要其僱主公司需要配額, 要求佢哋獲得居留許可, 允許向國外匯款.
Business permit is the authorization for the operation of a business with foreign capital either as a parent company or a subsidiary of a foreign company

.

The expatriate quota is the authorization to a company to employ individual expatriates to specifically approved job designations

, 並具體說明此類僱傭嘅允許期限. 外派人員配額構成外派人員工作許可證嘅基礎 (呢啲資格必須符合為特定配額職位制定嘅標準).
決定業務結構
When deciding on doing business in Nigeria

, 你需要喺成立新公司或收購現有公司之間做出選擇. 如果建立新的業務, 提供多種業務結構. 四種主要類型係獨資企業; 夥伴關係; 注冊受託人; 同公司. 你要決定最適合您業務需求的公司結構. 業務結構將決定成本, 稅, 法律, 監管和金融風險影響. 你嘅情況可能需要律師嘅意見.
Types of Registrable Organizations in Nigeria
在尼日利亞註冊嘅商業組織包括:
1.
A company limited by shares

(有限公司或有限公司)
2.
A company limited by guarantee

(有限公司/有限公司)
3.
An unlimited liability company

(乌尔特)
上述任何公司可能係私人公司或上市公司.
4.
Business Name

(註冊為獨資或合伙企業)
5.
Incorporated Trustees

(通常係為非營利或慈善目的而形成嘅)
股份有限公司在企業名稱上的優勢?
公司係自己的法人. 它嘅身份同股東係分開嘅, 董事, 和員工. 佢有永久的繼承 – 這意味着, 業務可以繼續, 儘管辭職, 董事或股東破產或死亡. 股東同董事享有與人包同公司股份價值掛鈎的有限責任保護. 通過出售股票或向外部投資者出售該業務的股份, 擴大或擴大規模相對容易. 公司可以以自己嘅名義起訴或起訴. 公司更可信. 為企業籌集大筆資金或出售部分業務更容易. 它可以利用投資激勵,
pioneer status and tax exemption offered by the government

.
Reserve A Name
You can only use a name that is not identical to an existing registered organization in Nigeria

.

A name availability search must be conducted at the Corporate Affairs Commission

(Cac)

registry to see if the name is available for use

.

Where it is available

,

same will be approved for registration

.

Name availability check and reservation can be effected within

24 小時.
Register the Approved Name
Entities doing business in Nigeria must be registered with the Corporate Affairs Commission either as a Business Name or as a Company

.

Foreign investors interested in entering the Nigerian market may wish to establish a new Nigerian company or establish a new Nigerian subsidiary which also operates as a distinct legal entity from the offshore parent company

.
Prepare and File Registration and Incorporation Deeds
Companies must have a Memorandum of Association and Articles of Association

(MEMART),

a Solicitor can assist you draft a MEMART to suit your business objects and file a copy of same at the Corporate Affairs Commission registry

;

make payment of stamp duties on the incorporation deeds and conclude registration of the company as a legal entity

.

Company's MEMART or Business Name's Partnership Deed will deal with ownership and management issues and contain the rules governing how the business is run

.

The deed will pin down the key issues and set out any restrictions on what the business can do and how decisions will be made

.
Company Share Structure
All categories of company shares

(即.

whether ordinary or preferential

)

issued by a company doing business in Nigeria must carry one vote in respect of each share

.

Shares with the weighted voting right are prohibited

.

A company must have at least

2 董事 (非僱員股東). 然而,

private companies must not have more than

50 非僱員股東.
Appoint the Directors
The directors are the shadow of a company and at the heart of its corporate governance A company doing business in Nigeria can have either foreign or Nigerian directors

, 董事可能係居民或非居民.
Find A Commercial Space or Office Location
If you are looking to acquire or lease a business or office location

,

a Solicitor can assist you with available options

. 尼日利亞土地的獲取和開發土地所在的州或地方政府緊辦公室得到完善.

Approvals

,

assessments

(

including environmental and structural assessment

)

and other regulatory requirements may differ between state jurisdictions

.
Register with The Tax Authorities
聯邦稅務局 (冷杉)
and State Board of Internal Revenue are responsible for the collection of corporate and personal taxes

, 分別. 每個公司, 企業名稱或註冊受託人必須喺SARS註冊並獲取稅務識別號 (錫) 同增值稅 (增值稅) 數量,

make and deliver to CAC the Annual Return in prescribed forms within the stipulated time

.

Filling of financial returns must be done within

18

months of incorporation/registration and must be completed and filed within

42

days after the organization's Annual General Meeting

.

A financial year can in principle start on any given date

.

There is criminal liability for tax default and evasion

.

You may request the services of a Solicitor or accountant for information on taxation as per doing business in Nigeria

.
Register Your Patent or Trademark
Your business may have proprietary rights to certain intellectual assets

.

To ward off infringements

,

you will require the services of a Solicitor to register or protect these rights as patents

, 商業秘密, 版權或商標.
Register and Obtain Licence From Relevant Regulatory Agency
Certain businesses are subject to monitoring

,

regulatory control and licensing by relevant government agencies such as National Agency for Food and Drug Administration and Control

(NAFDAC), 尼日利亞投資促進委員會 (NIPC),

Nigerian Exports Promotion Council

(内普克), 國家技術獲取和促進辦公室 (NOTAP), 尼日利亞版權委員會 (Ncc), 尼日利亞海關, 尼日利亞中央銀行 (Cbn), 等.

You want to obtain the necessary license and comply with health and safety

,

environmental and other regulatory obligations to avoid punitive liability

.
Issue Employment Contracts
Request the services of a Solicitor to prepare the employment contracts and work manual for your staff

(

or addendums for your employees outside Nigeria

)

and comply with the requirements under the Labour Act to avoid future legal liabilities

.
Perform Administrative Obligations
You must submit annual accounts and tax returns to the Federal Inland Revenue Service

(冷杉). 你都必須向企業事務委員會提交事務說明或年度報表 (Cac). 如果錯過咗截止日期或提交了不正確的信息, 你將面臨罰款的風險. 仲有其他啲法定要求. 例如, 根據《公司和相關事項法》, 你一定要履行一些義務, 《勞動法》, 保險灋, 《養恤金改革法》等. 經認可的律師可以為您提供意見, 幫助你完善啲行政義務.
收購一家尼日利亞公司
建立 a
new or subsidiary company may be to acquire an existing Nigerian company

. 尼日利亞嘅併購流程由美國證券交易委員會監管 (秒). 有意收購尼日利亞公司嘅投資者可能必須進行正式竞购.

A bid to acquire a Nigerian Company is subject to approval by SEC and sanctioning by the Federal High Court

.
Listing on The Nigerian Stock Exchange

(Nse)
尼日利亞有股票市場, 允許獲得長期資本.
To obtain and maintain an NSE listing

,

your company will need to meet the prescribed requirements set out in the stock exchange listing rules

.

This includes company disclosure and reporting requirements

.
在尼日利亞做生意
根據尼日利亞法律,外國投資者與當地投資者一樣受到待遇.
This guide is intended to assist you in getting the summary of the regulatory considerations for company formation in Nigeria

. 本指南並不消除對專業建議嘅需要,都不得解釋為法律指導嘅替代品. 本指南中任何事項嘅遺漏唔會免除你因未能遵守相關法律嘅法定義務而產生嘅任何處罰. 無論你係咪啱啱起步, 拓展你嘅活動,

or looking to doing buisness in Nigeria

,

it is strongly recommended that you use professional advisors to help you with the legal

,

tax and regulatory complexities

. Lex Artifex, LLP.

can get you started and assist you through every step of the investment process with all your business' legal needs

.
提供嘅服務包括:
尼日利亞貿易同投資專家諮詢

在尼日利亞為跨囯公司和境外投資者提供法律代理

知識產權申請/喺 wipo 或尼日利亞知識產權局註冊

盡職調查服務

規則合規性

商業移民援助
聯繫我們!
完整嘅公司套件
你嘅完整公司套件將包括 – 公司註冊文件, 印有公司名稱的通用印章和印章. 生產公司套件嘅成本係我哋專業費用一分子.

由尼日利亞到你指定地址嘅速遞服務將另行收費.
尼日利亞虛擬辦事處服務
如果你想在尼日利亞有一個相應的地址嚟接收商業文件和包裹, 或一個專門嘅電話號碼同人類接待員嘅服務, 我哋喺尼日利亞有虛擬辦公室服務供你考慮:
尼日利亞電話號碼 (1 年)

尼日利亞接待員服務 (1 年)

尼日利亞通信地址服務 (1 年)
注意:
尼日利亞接待員服務以英文進行, 在尼日利亞正常辦公時間內. 接待員用你公司嘅名問候來電者, 並透過電子郵件通知你來電者的聯系信息, 令你回復.

通信地址係商業地址; 因此, 它不能收集和存儲笨重嘅物品.

由尼日利亞到你指定地址嘅速遞服務將另行收費.
即刻聯繫!
lex artifex llp & #8217; 的貿易 & 投資諮詢小組
在尼日利亞做生意